While this isn't necessarily a "runway" review, I'm finally getting the chance to look through the red carpet from the Grammy's and I've picked six of my favorite looks to show you down below. I always love to focus on the best of the best instead of picking out the worst fashions. Therefore, we're going to look over the looks of Beyonce', Taylor Swift, Katy Perry, Miranda Lambert, Iggy Azalea and Kelly Osbourne!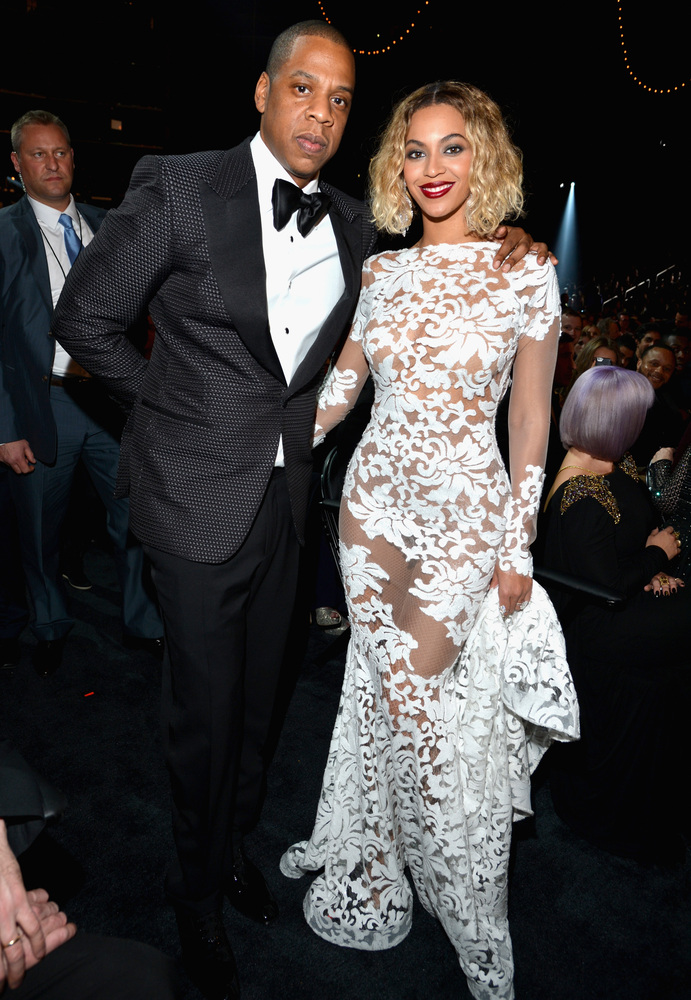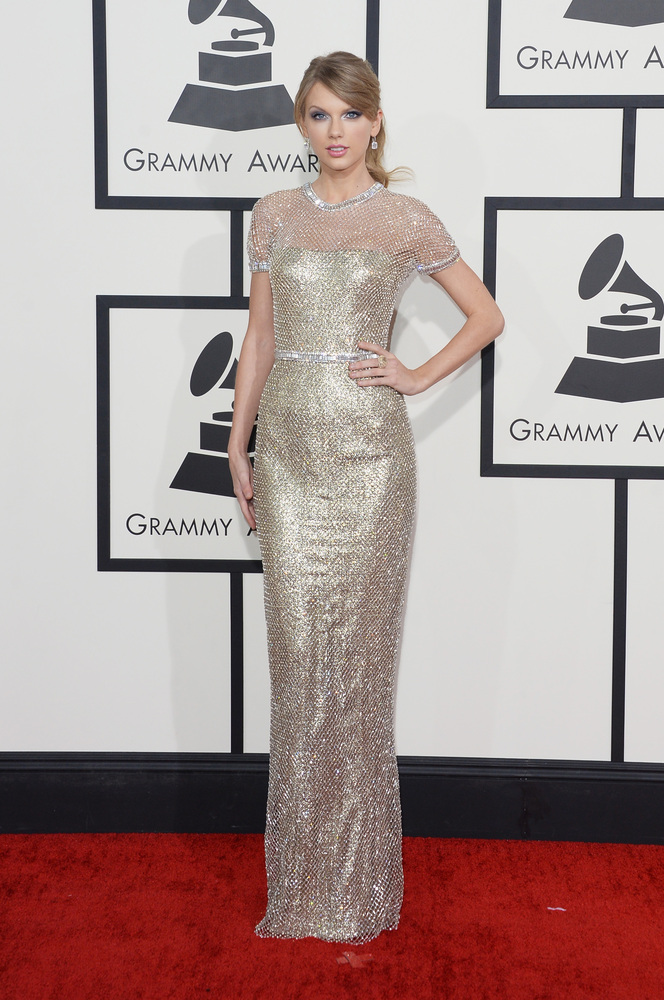 Beyonce' had to be first because she is utter perfection. First, her performance of "Drunk In Love" with Jay-Z opened up the night so well. Any of my friends can tell you that I watched that performance with my jaw on the floor. The white lace on her Michael Costello gown was so strategically placed with a bit of a peek-a-boo on her legs. Paired with her ombre bob and clean make-up, this was enough detail to stay interesting but classic enough to impress. In true Beyonce' style, she wears the dress; it doesn't wear her.
Now Taylor Swift's dress was another one of my favorites and I might consider her one of the best dressed at the Grammy's. She wore a classic Gucci gown in silver with a cinched waist and sheer top. The sheer top actually really suits her plus the dress makes Taylor's 5' 10'" stature look miles long. This just goes to show how important meticulous tailoring is. This Gucci gown shines, not because it's silver and sparkly, but because it has a perfect length and fit.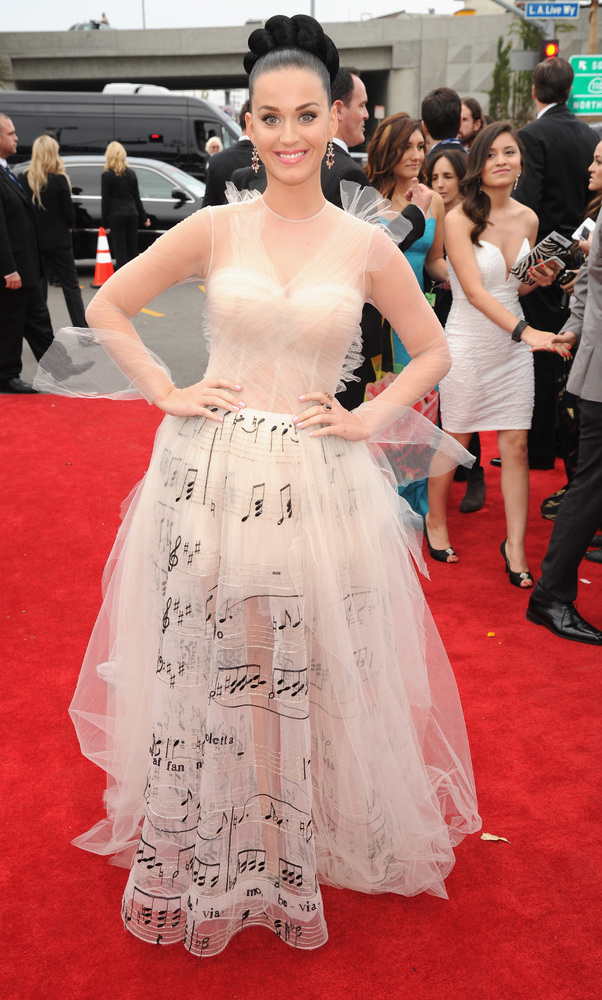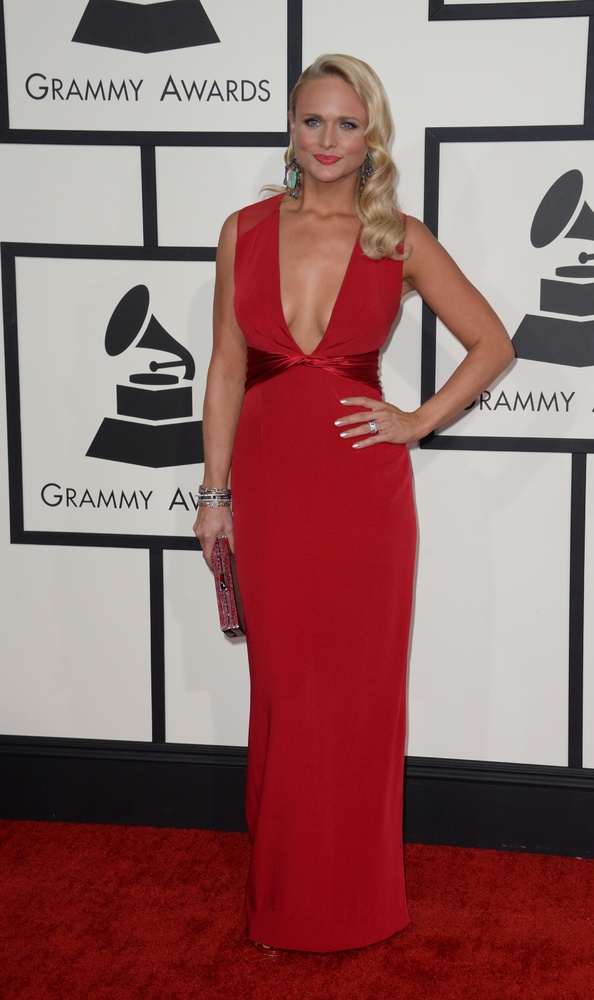 Katy Perry's gown was the most appropriate for the night with the musical notes. I thought the Valentino piece kept it simple and dreamy. The neutral, ethereal gown was a stark contrast to her performance which was dark so we got to see two sides of Katy. The only thing I would've changed would be her hair. I've read that she kept it pulled back to keep the focus on the dress, but I thought a sidesweep or a pony would've worked much better.
Next is one of roommate's favorites, Miranda Lambert, in Pamela Rolland. It's simple and suits her figure! The length is perfect so she could glide along with red carpet and of course, it's in my power color so how could I not love this dress..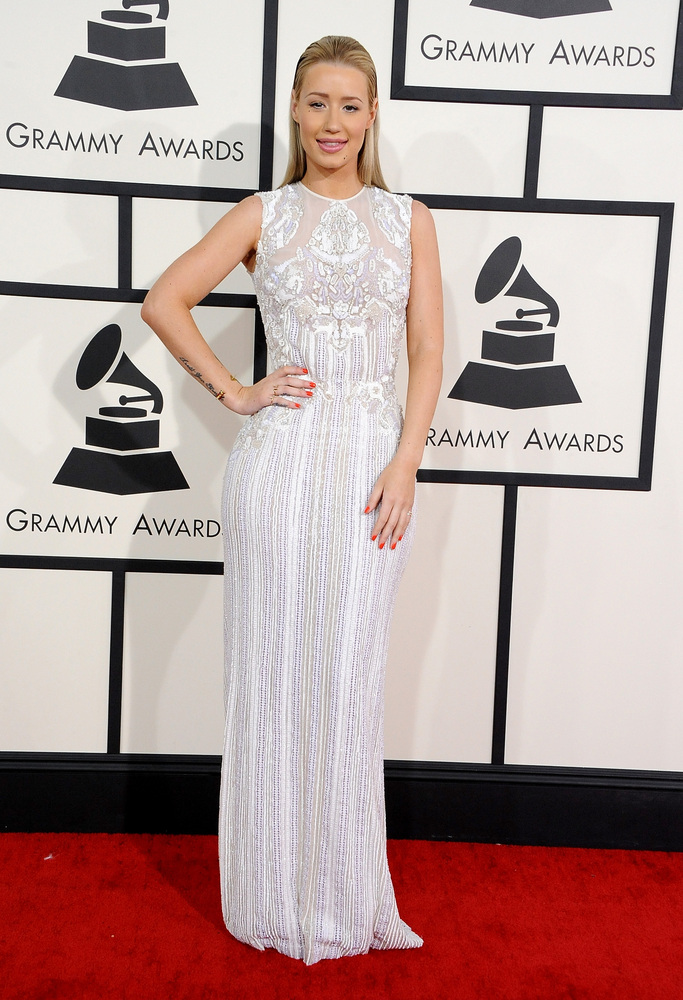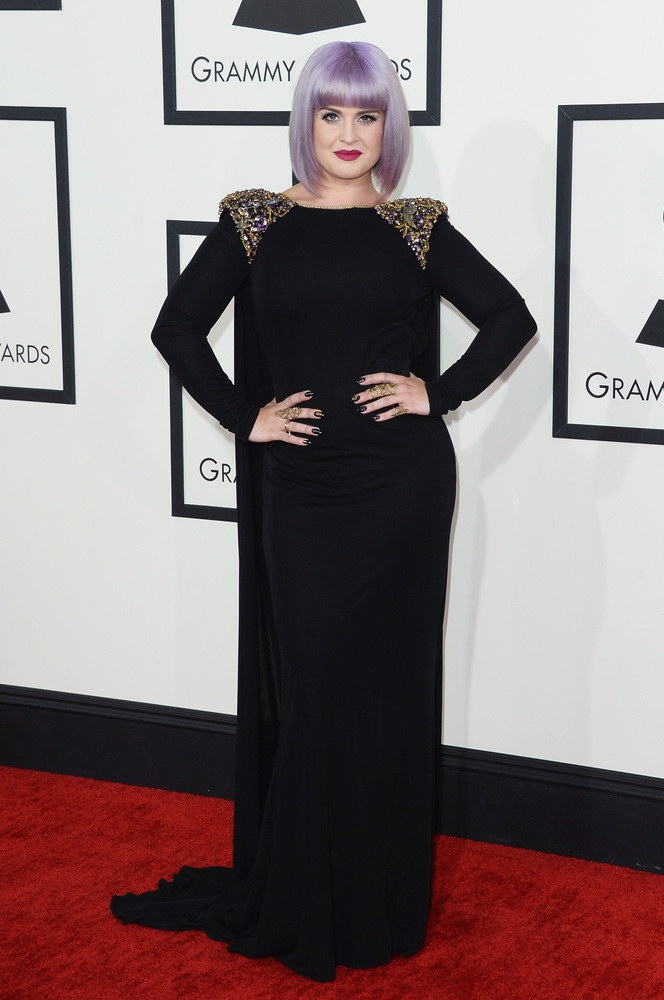 I wanted to save the best for last, because honestly Iggy Azalea and Kelly Osbourne chose pieces that I could personally see myself wearing. First Iggy Azalea's Elie Saab number is comparable to what I want to wear at my wedding eventually. The lines flatter her figure and I cannot get enough of the crisp white with a hint of silver. She keeps the pop of color on her nails and probably had the most natural looking make-up at the Grammy's. She's a clear favorite of mine..
Next Kelly Osbourne wore the dress I would most likely have in my closet. Recently Kelly Osbourne has become one of my style icons with her purple bob, dark lips and all black outfit. The strong shoulders with jewel accents in addition to the cape just made this an A+ outfit for me. I loved that her rings matched the shoulder detail and that she kept her nails dark. It looks quite regal on her pale skin and you better believe I will be trying to emulate this outfit next week.
Did you get a chance to watch the Grammy's? Which was your favorite red carpet look?